1.Admission Requirements
(1) Students seeking admission to the MA program must have earned a BA from an accredited university in any relevant discipline or are expecting to receive one before pursuing our MA program. Previous study in Chinese philosophy is recommended but not required.
(2) Students must possess high proficiency in English. All non-native English speakers must certify that they have passed a recognized English-language proficiency test, preferably TOEFL (86) or IELTS (6/5.5) from locations where it is offered, although this may vary depending on students' home country and particular backgrounds.
2.Application Procedure

Tips:
Step1:
1.In order to apply for the program, candidates may register a new account through online application
portal
. Fill up your personal information clearly.
2.Do not forget to check the notification to activate your account in your mail.
3.You should choose your program and the type after activating the account, and then choose the study plan you are interested in. The procedure is as follows.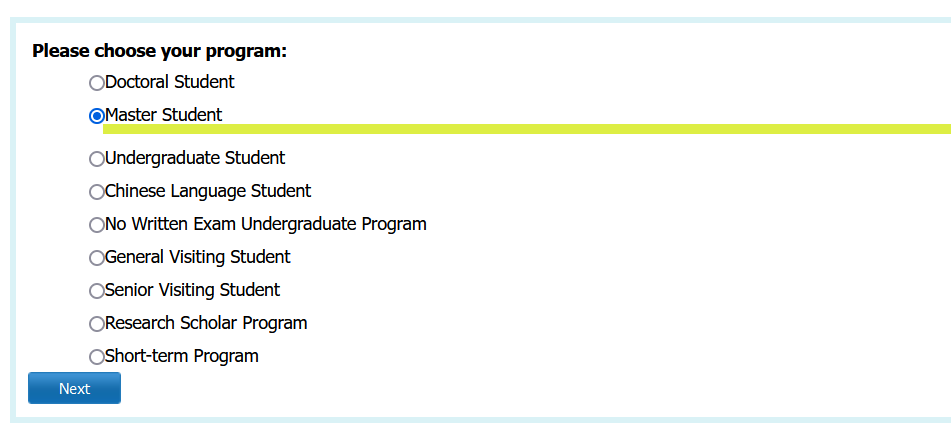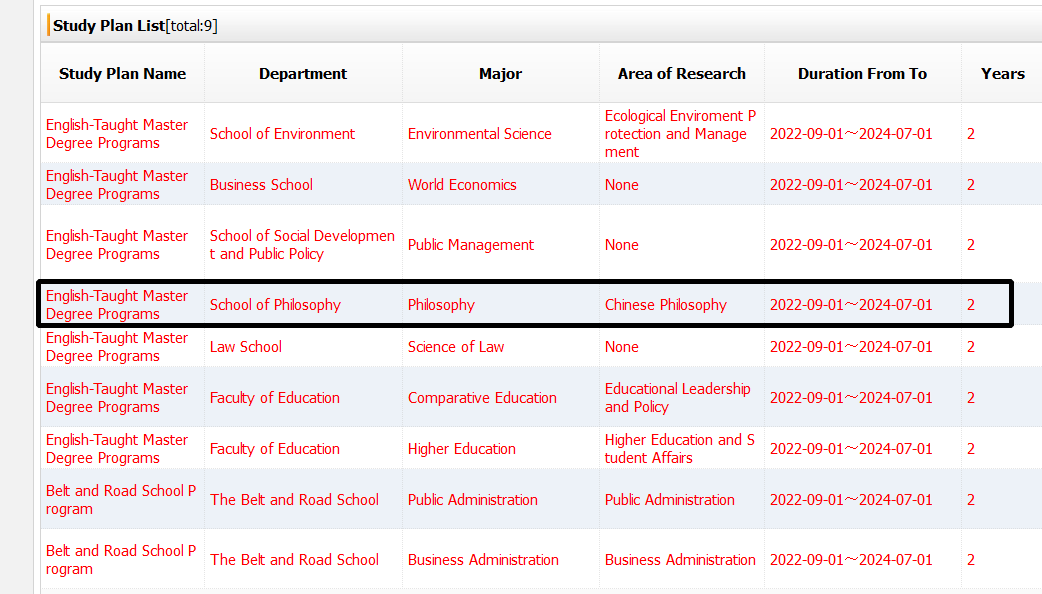 Step2:
You have two options to pay application fee,
Option 1: Pay online via Visa or MasterCard.
Option 2: Come to the International Students Office (the Office's address is shown in the Step3) in person and pay 600RMB.
Step3:
1.Send the application documents via mail or hand deliver to the International Students Office.
(1)Print your application form and sign, attach 1 passport size photo.
(2)Enclose in your letter two each of the HARD COPIES of the following materials:
① Foreign Transcript(s), 2 copies
② Degree Certificate(s), 2 copies
③ Certified copies of Medical Form- Physical Examination Form (stick 1 passport size photo on this form).
2.Be sure to have all your medicals in any certified hospital and have your Medical Officer's signature on the form including the passport size photo.
3.Send all enclosed hard copy documents through any fastest courier (DHL preferably) to the address provided below:
International Student Office, Beijing Normal University
Room 9910 Jingshi Building
#19 Xinjiekouwai Str. Haidian District, Beijing
Tel. 86-10-58800307
Fax: 86-10-58800823
4.Please make separate application (one for your choice of school & one for the scholarship).
3.Tuition
RMB 60,000 (inclusive for the 2-year program). Students are encouraged to apply for various scholarships. Note that in most cases scholarship applications are due before the program application deadline. Please refer to:
http://iso.bnu.edu.cn
.
5.CONTACT INFORMATION
The School of Philosophy BNU
Ms. LIN Wanzhi
E-mail: maphil@bnu.edu.cn
Tel: +86(10)58809394
For more information about the Program, please visit our official website: machphil.bnu.edu.cn.